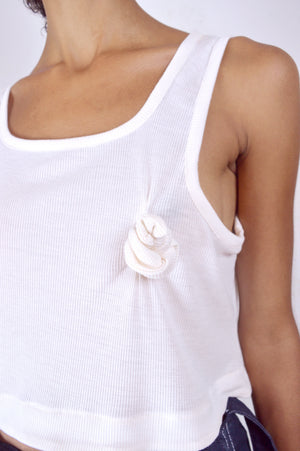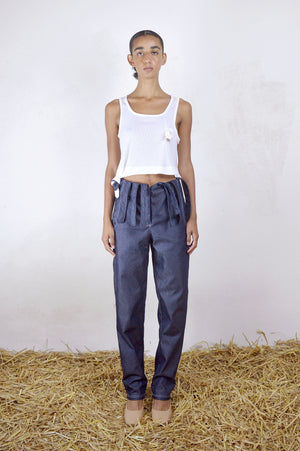 'ANDROMAQUE'
'ANDROMAQUE' - tank top
The design.
Named from the famous amazon, this ultra soft tank top is made of a light cotton jersey with two signature knot details, one on the left breast and one on the front bottom. Championing the one breast amazon myth which would allow them to have better bow control, this top gives any woman a casual still fearless look.

The making.
'ANDROMAQUE' top is tailored in Sample-cm's Berlin atelier according to luxury standards. It is enhanced by the Sample-cm ribbon on the backwards. 
Color : ivory.
Composition : 100% cotton.
Care : handwashing.
Size Chart - The 'Grand Bassin' designs are made on order. If you can't find your size, feel free to share your measurements per email.

--
'ANDROMAQUE' is part of the GB2022-CLUB,  a Grand Bassin collection by Sample-cm Berlin.
sample-cm.com
--
Your Grand Bassin piece is made on order. It will be ready to dispatch in 1-3 weeks. Shipping costs are free worldwide for any order with a total above EUR350.