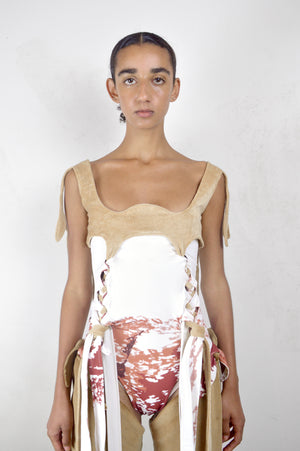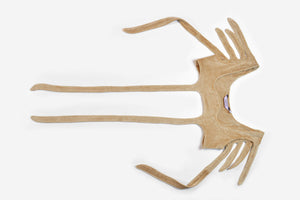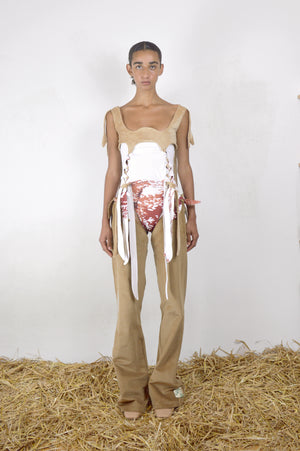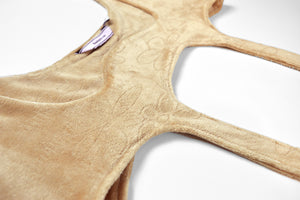 'POPPY'
'POPPY' - top 
The design.
'POPPY' is made from a velvet coat jersey burned out with a subtle flower pattern.
The signature fringes on the front and the shoulders of the piece reinforce the western style of the neck cut and can also be used as some 'hair strands' when braided with other GB2022-club low pieces.
The making.
This versatile design is tailored in Sample-cm's Berlin atelier according to luxury standards. It is enhanced with Sample-cm ribbon on the backwards. 
Color : Light camel.
Composition : 55% polyamide. 45% cotton.
Care : hand-washing.
Size Chart.  The 'Grand Bassin' designs are made on order. If you can't find your size, feel free to share your measurements per email.
Braiding & Knotting instruction.

–
'POPPY' is part of the GB2022-CLUB,  a Grand Bassin collection by Sample-cm Berlin.
sample-cm.com
–
We recommend to braid 'POPPY' with the bodysuit 'SPIRIT', the tube tops 'BILLIE', 'BIJOU' 'VENT-DU-SUD', the sleeves 'GINGER', 'SMOKY', 'TILLIE' or 'NUAGE-NOIR' for a full signature look. When purchasing several pieces, Sample-cm will braid the pieces which can then be worn and washed together or detached. 
--

Your Grand Bassin piece is made on order. It will be ready to dispatch in 1-3 weeks. Shipping costs are free worldwide for any total order above EUR350.