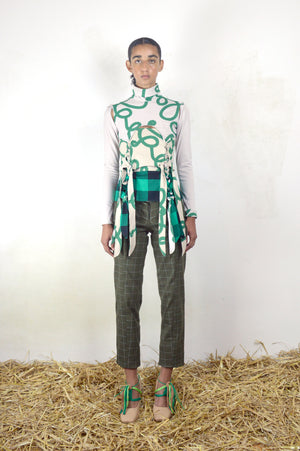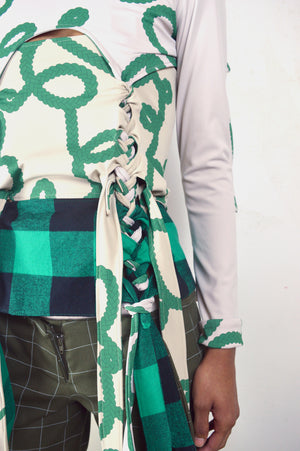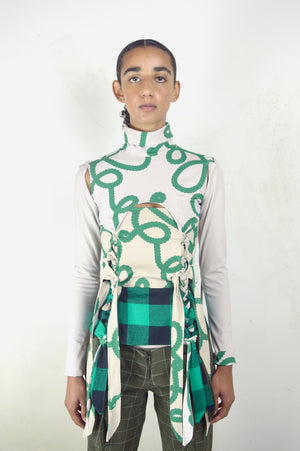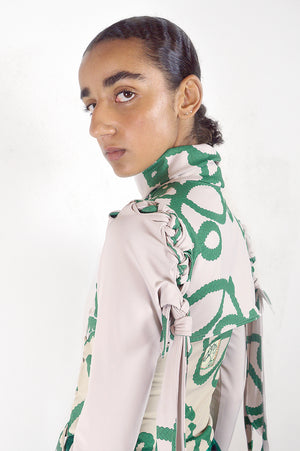 'SADIE'
'SADIE' – turtleneck
The design.
'SADIE' is made from two layers of a technical jersey printed with the signature GB2022-CLUB braid pattern. This slim cut-out turtle neck is fearlessly body conscious and draws a complex design with a streamlined look. The shoulders and the front are extended with long straps as some 'hair strands' to be braided potentially with other GB2022-CLUB low tops and sleeves. They can alternatively be left unbraided elongating the silhouette while bringing to light the moment of dressing.
The making.
'SADIE' is tailored in Sample-cm's Berlin atelier according to luxury standards. It is enhanced by the Sample-cm ribbon on the backwards.
Color : light grey & dark green.
Composition : 81% polyester. 19%polyethane. .
Care : 30°.
Size Chart.  The 'Grand Bassin' designs are made on order. If you can't find your size, feel free to share your measurements per email.
Braiding & Knotting instruction
--

'SADIE' is part of the GB2022-CLUB,  a Grand Bassin collection by Sample-cm Berlin.
sample-cm.com
--

Your Grand Bassin piece is made on order. It will be ready to dispatch in 1-3 weeks. Shipping costs are free worldwide for any total order above EUR350.